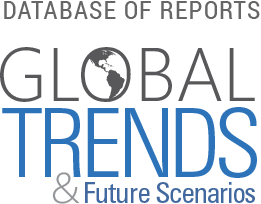 Global megatrend update: Continued economic growth?
Authors' abstract
The financial crisis of 2008 and 2009 significantly reduced economic output in many developed countries, particularly in Europe. While its continuing impacts are apparent in less optimistic long-term economic projections for Europe, virtually all mainstream outlook studies foresee economic expansion globally in the coming decades as Asia's huge populations continue their shift to Western patterns of production and consumption.
The implications of this enormous increase in global economic output are numerous. Several are treated as separate global megatrends in other chapters of this study, including the rebalancing of economic power, competition for resources, reduced natural capital stocks, growing climate change impacts, and increasing pollution. The present chapter focuses on the forces underpinning these trends — addressing past and projected economic output, associated drivers and uncertainties, and related changes in living standards globally.
Issue:

Region:

Year Published:

Authors:

Institution: