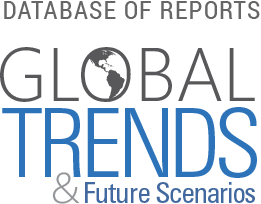 Globalization and Future Architectures: Mapping the Global Future 2020 Project
The NIC 2020 Report provides a mechanism by which to examine the (in)adequacy of the current political, economic and financial architectures to deal with the effects of globalization including its retrenchment. A slow-down in globalization has already occurred, despite prognostication in the late 1990s and early 2000s of its continued, if not relentless, expansion; therefore, the 2020 Report scenarios can be further developed. Specifically, this report analyzes the following issues:
the rise of China and India: internal developments and a new world order;
factors of uncertainty: energy, environment, and bio- and information and  nanotechnology advances;
policy responses to state failure;
future architectures of international institutions (e.g., WTO, UN, EU): the end of Western dominance?
This Report is a compilation of views arising from a conference and does not reflect the opinion of the US Government or Chatham House (the Royal Institute of International Affairs). This material is offered free of charge for personal and non-commercial use, provided the source is acknowledged. This material may not be altered, sold or rented. For commercial or other use, prior written permission must be obtained from Chatham House and the National Intelligence Council.
Issues:

Region:

Year Published:

Institutions: